[Available now] Windows-OSDS/1.0.0 Open Source Data Science VM template
Installing software can be quite a hassle, especially if you have to do it over and over again. The feature to create an image of a VM where you have installed your software could provide a nice outcome. To learn more about how you can create your own VM templates see:
Create VM Templates for your Workspace
.
R and Python are open source data science tools that are often used in research. Therefore, we have created a VM template with R and Python pre-installed. With minimum effort you can make these tools work on your VM. See
Windows-OSDS/1.0.0
for more information about the template and what is installed.
This template is now available for everyone to select when creating a new VM in their workspace
.
If you want to make use of this template, follow these steps:


Prerequisite:

Be the Owner of a workspace where you want to deploy this VM template.
Log in to the mydre.org portal and navigate to your workspace.

Click on the green square with the white plus sign.


Select the template Windows-OSDS/1.0.0.

Select the size.

Deploy the VM, it will take about 20 minutes before the VM is deployed.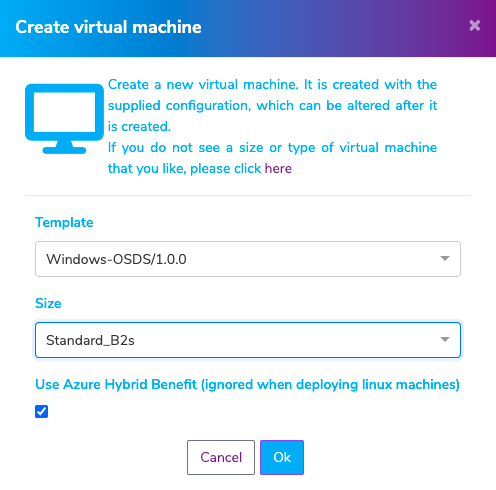 Read Windows-OSDS/1.0.0 on what you need to do yourself after the VM is deployed.
Related Articles

Windows-OSDS/1.0.0 Open Source Data Science

Windows-OSDS/1.0.0 Open Source Data Science VM template OS Windows Server 2019 Web browsers Chrome (default) Default download location: request Microsoft Edge Utilities Notepad++: 7.9.5 Set as default according Notepad++ Z-zip Post VM creation ...

Windows VMs

Owners and Members can connect to the Windows VMs. Your workspace includes one or multiple Windows Virtual Machines. You can connect to DRE Windows VMs with two concurrent users. When you connect with more, you won't be allowed in. Read below how ...

Creating VM-templates for your Workspace

Installing the same software on your VM can be tedious and time consuming. Therefore, you can transform a VM into a template to be used when creating new VMs. Install the software once on a VM, generalize the VM and copy it. Below are instructions on ...

RedCap Server on Windows VM

Introduction This article deals with the potential challenge of getting a RedCap Server (Windows VM) - Client up and running within the context of a Workspace. The problem it fixes is that the RedCap server cannot be reached from another VM within ...

Managing and monitoring your VM

This is a new feature on mydre.org! This feature is only available to Owners. From within the myDRE web portal, you can find a Manage and monitor VM menu that provides links directly to your VM in the Azure portal and Azure app. Within the Azure ...