VM stuck in Status: Unknown
The problem
Incidentally, VMs can get stuck in the
Status: Unknown
rather than
deallocated
or
running
. When in this state, the VM cannot be shutdown from the mydre.org portal.
The solution

You can self-service remedy this state by following these steps:

Select the specific VM and press on three dots for more options, select Manage and monitor.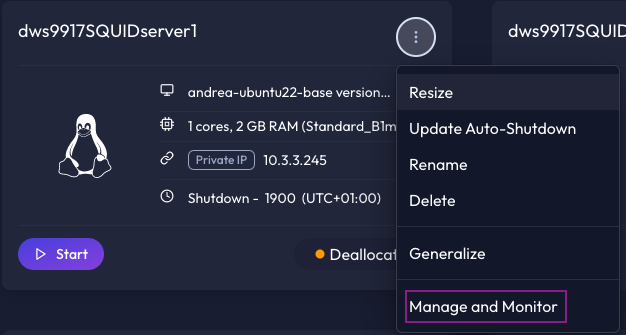 A new pop-up will appear with a QR code. Below the QR code you can find the link

Manage and monitor the selected VM in browser tab

. Click on that link.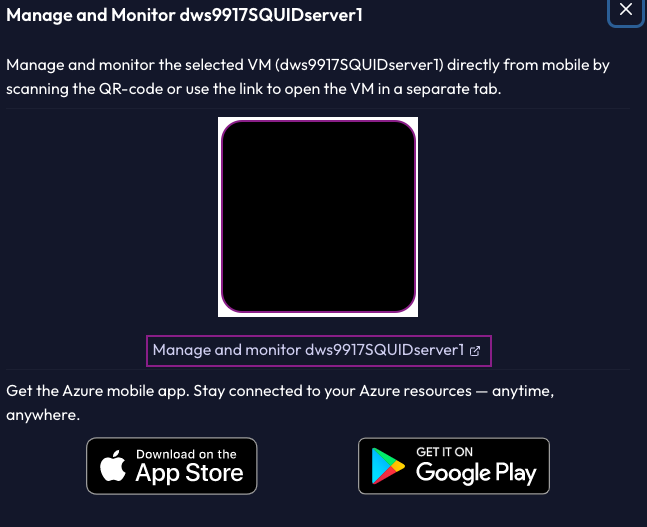 A new browser tab will open and direct you to the

Azure Portal

. Log in with your @mydre.org account.

You will be directed to a page similar to the screenshot:

Check if you are on the correct page of the correct VM. If dwsACRONYMServer1 is not working you should be on the page of dwsACRONYMServer1.
If the status is

Unknown

or

Failed

, press the

Stop

button. Wait for the VM to have the status

Stopped (deallocated)

.

Press the

Start

button to start up the VM.

Connect to the VM as usual from the mydre.org portal.
Related Articles

Managing and monitoring your VM

From within the myDRE web portal, you can find a Manage and monitor VM menu that provides links directly to your VM in the Azure portal and Azure app. Within the Azure portal or app, you can start, stop and reset the VM, as well as analyze its ...

Using the Azure Portal

DRE is suitable for any type of user. However, perhaps you already have lots of IT experience and you know your way around Azure. That's when it might be interesting to know that you can also access your workspace resources through the Azure Portal. ...

Generalize a VM

Use this process only if you want to create a template for your own Workspace. If you want to create a template for the whole organisation, please contact your local ST member. Introduction Installing the same software on your VM can be tedious and ...

Failure to download 0 Unknown Error

The problem Http failure response for https://andrea-datatransfer-api.andrea.p.azurewebsites.net/api/DataRequest/xxxxxxxxxxxxx/file/xxxxx%20%2B%20xxxxx.jpg: 0 Unknown Error The cause There is a '+' or '#' sign in the file name, this translates to ...

Download request stuck in status file copy pending

Problem: I have submitted a download request, it has been approved but it is stuck file copy pending state Problem: A user has submitted a download request, it's pending for approval, but cannot perform the action because the request is stuck in the ...