Failure to download 0 Unknown Error
The problem
Http failure response for
https://andrea-datatransfer-api.andrea.p.azurewebsites.net/api/DataRequest/xxxxxxxxxxxxx/file/xxxxx%20%2B%20xxxxx.jpg:
0 Unknown Error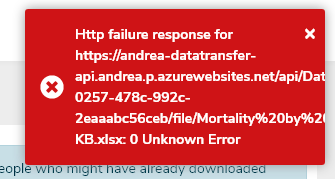 The cause
There is a '+' or '#' sign in the file name, this translates to %2B% and this makes the download fail.
The solution
Remove the '+' or '#' signs from folders and files, or

Zip and ensure the zip-file has no '+' or '#' Sign
Related Articles

Downloading and transferring files via data requests

Introduction Downloading or transferring data from the the myDRE workspace always follows an approval flow. This means that a download (to local machine) or transfer request (to another workspace) needs to be requested by the member, which will then ...

Zipping files for quick up-/download

When you want to up- or download a lot of files or whole folder structures at once to/from your workspace, compressing the data into a single file (e.g., zip) is highly recommended. There are a few things you need to take into account when doing ...

Network Level Authentication (NLA) error

The problem Incidentally, users can encounter the following error when trying to connect to the Virtual Machine (VM): The solution We have recently identified the cause of this error. The solution is known to us, however it is not self-service for ...

SSPR_0010 error when trying to activate your @mydre.org account

The problem Some users encounter the following error when they try to activate their @mydre.org account, in short SSPR_0010 error: "U kunt uw eigen wachtwoord niet opnieuw instellen omdat de functie voor wachtwoord terugschrijven (dit is de wijze ...

[Resolved] Download request and Workspace-to-Workspace transfer error

Version: 2023-01-16 Updated: 2023-01-17 TL;DR A portion of myDRE Workspaces were experiencing issues regarding download requests and Workspace-to-Workspace transfers due to a background change made by Microsoft. We received one ticket regarding the ...