Azure Bastion to connect to your VM
Introduction

Azure Bastion is a service that enables RDP connection through your browser. myDRE offers Azure Bastion as an optional service, read more
here
. How you can connect to your VM though Azure Bastion can be found in articles
Windows VMs
and
Linux VMs
.

Connection to your virtual machine via Bastion is only possible if your institution is using Azure Bastion instance. If you are not sure whether this is the case, please contact your local support team member.
Connecting to a VM via Bastion

Select the VM you wish to access in myDRE portal

Start the virtual machine and wait until Status: Running

Click the down arrow next to connect and click "Connect via Bastion"


You will land at the Azure Portal page for the selected VM, make sure the VM is running!

You may either get this screen where you need to select More methods to connect and then Bastion:



Or you get this screen, where at the top left, select

Bastion and click on "use Bastion", and in the next screen u

nder Connection Settings, select RDP.
(1)
(2)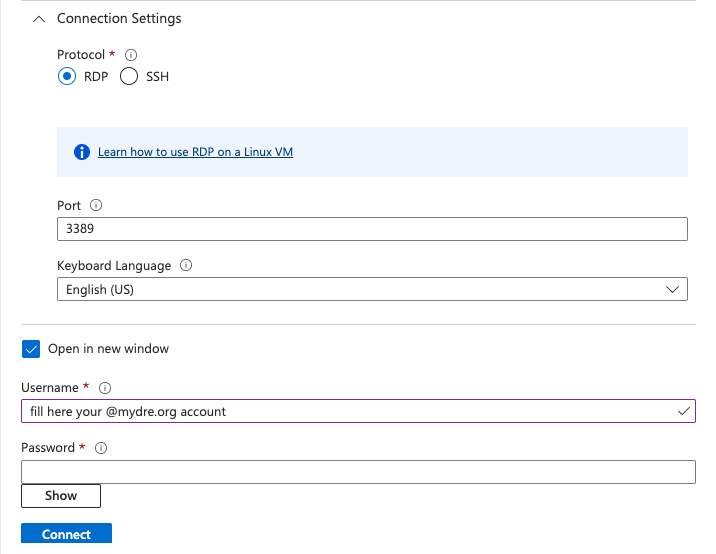 In either case, fill in your username and password, and select

Connect

.


If your institution disables browser popups, please make sure to deselect the option "Open in new window"
Now you are connected to your VM

Once you wish to stop the connection, close the browser tab and stop your VM in the myDRE portal.

Nice to know

Azure Bastion enables direct terminal sessions for Linux machines (without using the Windows VM as stepping stone). In order to have a Linux terminal session, please select SSH under Connection settings. For using Linux VMs with a graphical interface through RDP, please read more
here
.
Troubleshooting

Issue: I'm unable to connect with a Linux VM through Bastion RDP.

Solutions: Not being able to connect to a Linux VM through Bastion RDP could have several reasons and therefore several solutions. Please verify that you have completed the criteria below:
Does your organization have the optional service Bastion enabled? If not, contact your Support Team member via a ticket and ask for the possibilities.
Did you SSH into the Linux machine first before attempting to RDP into the VM? If not, please SSH via Bastion first: it will create the user directory and you will be able to use RDP afterwards.

Did you do all of the above but you are getting an error, please try the solutions below:
You are getting a 'VNC error'. Restart the VM and this error will disappear.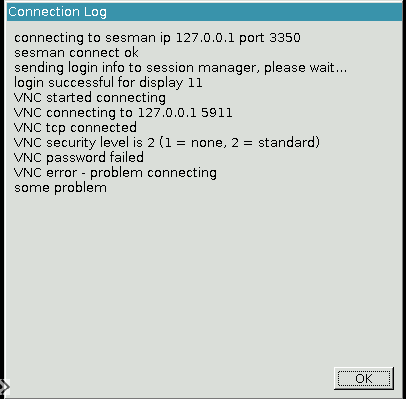 You are not able to fill in your username and password due to 'Unable to query Bastion data'. Contact your Support Team member via a ticket. Your permissions need to be updated.


You are logging in via Azure portal but are still getting Bastion session error. Please make sure that you login again (close Azure portal tab and open a new one from myDRE portal once logged in again) and restart the VM. If this does not resolve the problem, contact your Support team via a ticket.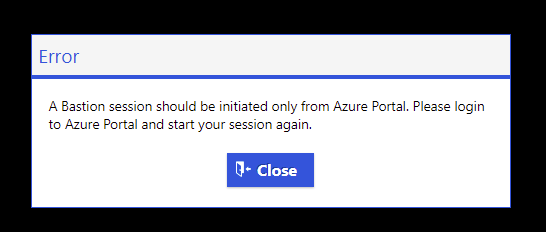 Related Articles

Using the Azure Portal

DRE is suitable for any type of user. However, perhaps you already have lots of IT experience and you know your way around Azure. That's when it might be interesting to know that you can also access your workspace resources through the Azure Portal. ...

Error while launching VM via bastion (Chrome and Chromebook)

Problem statement While trying to connect to VM via Bastion, user is redirected to portal.azure.com, but in some cases user might see a error page, which would look like (image attached below) Solution As soon as user sees this error page, go to ...

Managing and monitoring your VM

From within the myDRE web portal, you can find a Manage and monitor VM menu that provides links directly to your VM in the Azure portal and Azure app. Within the Azure portal or app, you can start, stop and reset the VM, as well as analyze its ...

I cannot connect to my virtual machine: 1,2,3 error

Problem I am getting an error "Remote Desktop can't connect to the remote computer for one of these reasons: 1. Remote access to the server is not enabled; 2. The remote computer is turned off; 3. The remote computer is not available on the network." ...

RESOLVED: 2023-06-09 - Azure Portal down

Update: 2023-06-09: 1958 Everything is reported healthy by Microsoft. Update: 2023-06-09 @ 19:40 While Microsoft still reports issues with Azure Portal, we see that we can access it and Bastion works again. We'll keep this Alert active till ...